Vintage Stamps, Vintage Life
Over the past few years, I've been making a list of my heroes -- those people in the world, strangers to me all, who are doing such extraordinary things with their lives and careers that they make my heart at once appreciative and envious. Perhaps I'll share those heroes with you another day, but right now, I want to highlight one of the people on that list: Janine Vangool. Vangool is the creator, editor, and designer extraordinaire behind Uppercase Magazine. A few years ago, in addition to tackling the magazine, Janine announced a new project: the Encyclopedia of Inspiration. Twenty-six volumes focused on a variety of arts, crafts, and other sources of visual inspiration will roll out, one by one, until the set is complete. For a person like me who is nostalgic for the days when an encyclopedia graced every household's bookshelf and who is also obsessed with gorgeous books, this project is the dreamiest. I am both collecting these volumes for my own home and carrying them in the shop as they are published.
The most recent volume to be published -- V for Vintage Life -- is particularly special to me because I submitted an entry for the book, and it made its way in. Have a look!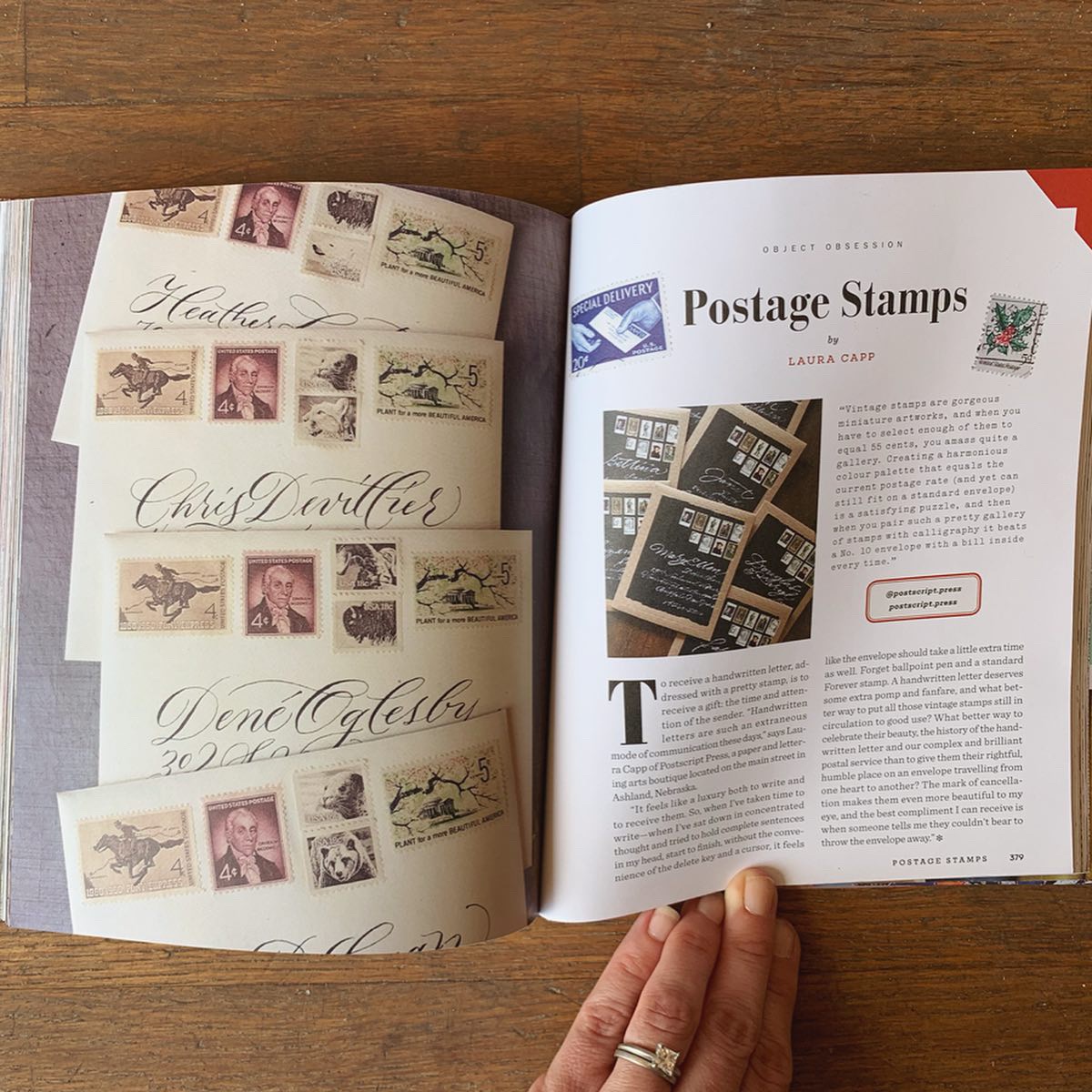 As part of the submission process, Vangool asked a couple of questions about what we make and why. Here's what I answered.
What do you make? What elements are sourced from something vintage?
Given that what we find in our mailboxes these days is typically less than inspiring (Uppercase magazine aside), I love to create decorative envelopes using calligraphy and vintage stamps. Vintage stamps are gorgeous miniature artworks, and when you have to select enough of them to equal 55 cents, you amass quite a gallery. Creating a harmonious color palette that equals the current postage rate (and yet can still fit on a standard envelope) is a satisfying puzzle, and then when you pair such a pretty gallery of stamps with calligraphy -- well, it beats a No. 10 envelope with a bill inside every time.
How does the vintage element or process inspire, inform or enhance the object or product that you make?
Handwritten letters are such an extraneous mode of communication these days that it feels like a luxury both to write and to receive them. So, when I've taken time to write -- when I've sat down in concentrated thought and tried to hold complete sentences in my head, start to finish, without the convenience of the delete key and a cursor, it feels like the envelope should take a little extra time as well. Forget ballpoint pen and a standard Forever stamp. A handwritten letter deserves some extra pomp and fanfare, and what better way to put all those vintage stamps still in circulation to good use? What better way to celebrate their beauty, the history of the handwritten letter, and our complex and brilliant postal service than to give them their rightful, humble place on an envelope traveling from one heart to another? The mark of cancellation makes them even more beautiful to my eye, and the best compliment I can receive is when someone tells me they couldn't bear to throw the envelope away.
It is impossible to read -- even to flip through! -- one of Uppercase's issues or encyclopedic volumes without feeling flush with inspiration and awe. It is an honor to be included and such a joy to share Vangool's projects with my corner of the world.