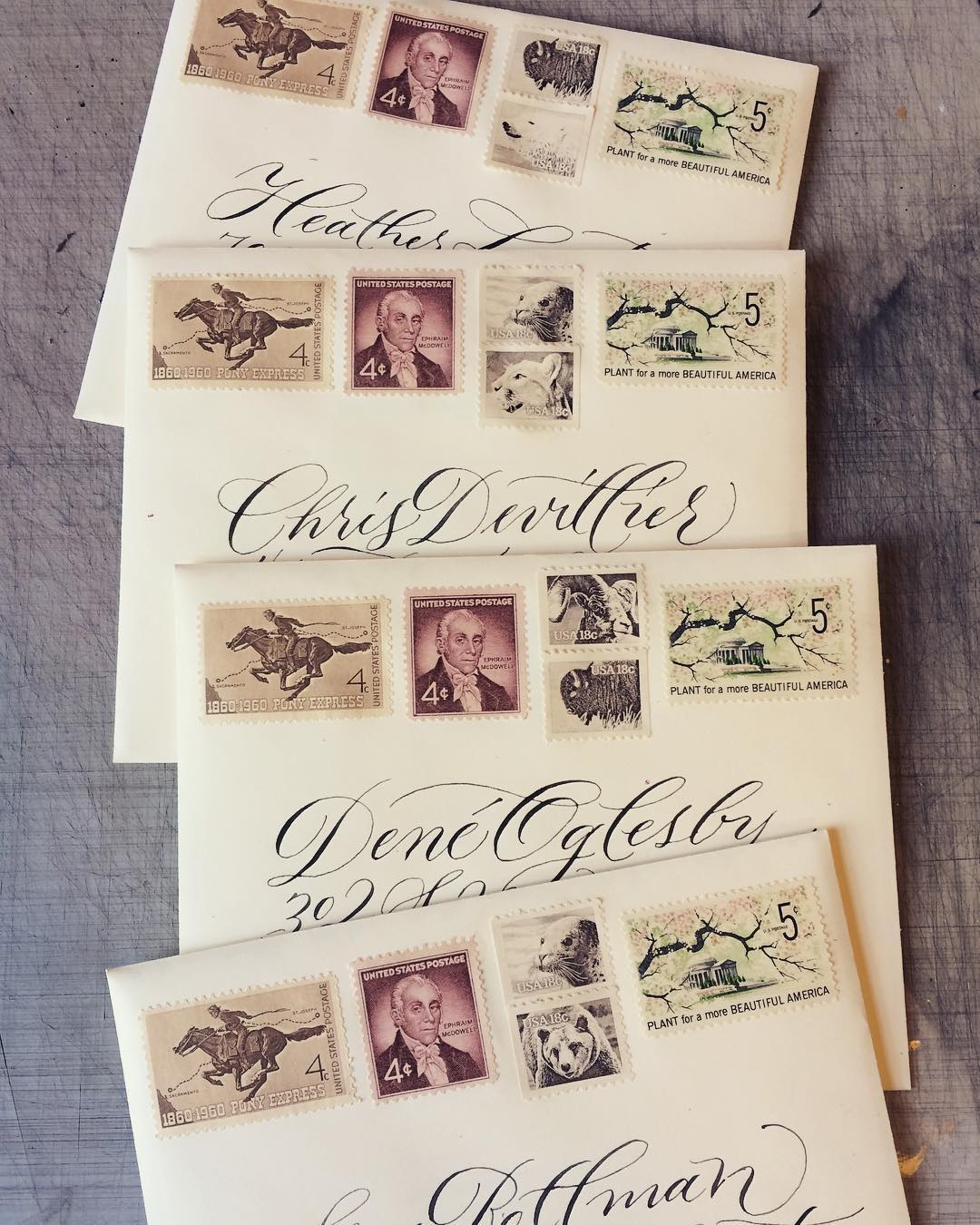 It's kind of an understatement to say that I'm obsessed with vintage postage. I love it for so many reasons. The colors are saturated and mesmerizing and extend right on out to the perforations (many? most? vintage stamp sheets were printed with a two-color intaglio process). The artwork is intricate and complex--so different from graphic design in the modern era. And the paper has a matte surface that poses such a contrast, too, to the glossy sticker-stamps we have today. I think the USPS is certainly still putting admirable effort into stamp design -- from the heat-sensitive stamp celebrating the solar eclipse to the scratch-and-sniff popsicle stamps to the recent magical illusion of the stamp with the rabbit popping out of the top hat (made possible, I learned, with lenticular printing), they're certainly trying to keep stamp collecting interesting and fun. But! To my romantic heart, nothing beats the look and feel of stamps from the mid-twentieth century. They just fill me with longing.

A lot of customers have questions about my stamps when they come in, so I thought I should put some of my answers in writing in case you are interested in using vintage postage for any upcoming mailings.
1. Can you still use old stamps?
Yes! Yes! Yes! Unless a stamp has been cancelled, all stamps remain useable no matter when they were printed.
2. Are they expensive?
It depends. If you are buying online, vintage stamps are often marked up to 6-7 times their face value. If you are just interested in getting a handful, this may not be a big deal. But if you're interested in buying for an event that will require a large mailing, in my experience, it has been much better to find stamp dealers (they still exist!), where you can buy by the sheet. In this case, many old stamps remain available at face value, but select sheets are marked up. It's also important to know that not all stamp dealers sell old stamps in sheets, so before you make a pilgrimage anywhere, make sure you call ahead.

3. Where do you find your stamps?
Most mid-sized cities and larger still have philatelic societies (stamp clubs), and those societies often host an annual stamp show. Sometimes they're stamp and postcard shows. This is definitely as nerdy as it sounds. Dealers set up tables, usually for a Saturday-Sunday, often in a hotel conference room, and there's sometimes an exhibit, too, featuring an interesting snippet of stamp history. A couple of shows happen annually in Omaha, and one happens every February in Lincoln.

4. Does vintage postage require special handling by the post office?
I hesitate to answer this across the board, as I think this could vary. Technically, all stamps have to be cancelled, which a machine is not going to be able to handle if your envelope has seven to nine stamps on it. My local post office knows my deal, so I haven't faced any issues with them. Individual envelopes, I just stick into the collection box as usual. Larger mailings I take inside, and I offer to do the hand cancellation myself so I don't impose upon their time too egregiously.

5. What do you do with your stamps?
Apart from using them for fun on my own envelopes and mailings, I do two main things with my vintage stamp stash (say that five times fast). I offer custom envelopes to customers who would like to put something fun and unexpected in the mail to a friend. And I curate bundles of stamps that equal the current postage rate (55 cents at the moment) and tuck them just so into tiny glassine envelopes so that if you want to use vintage postage on a piece of mail, there's a coordinated grouping of stamps ready to go. The process of creating these little collections is so weirdly satisfying. I delight in puzzles, so the challenge to both find a cohesive color palette and nail the current postage rate spot on is really the height of fun for me. And yes, I do need to get out more.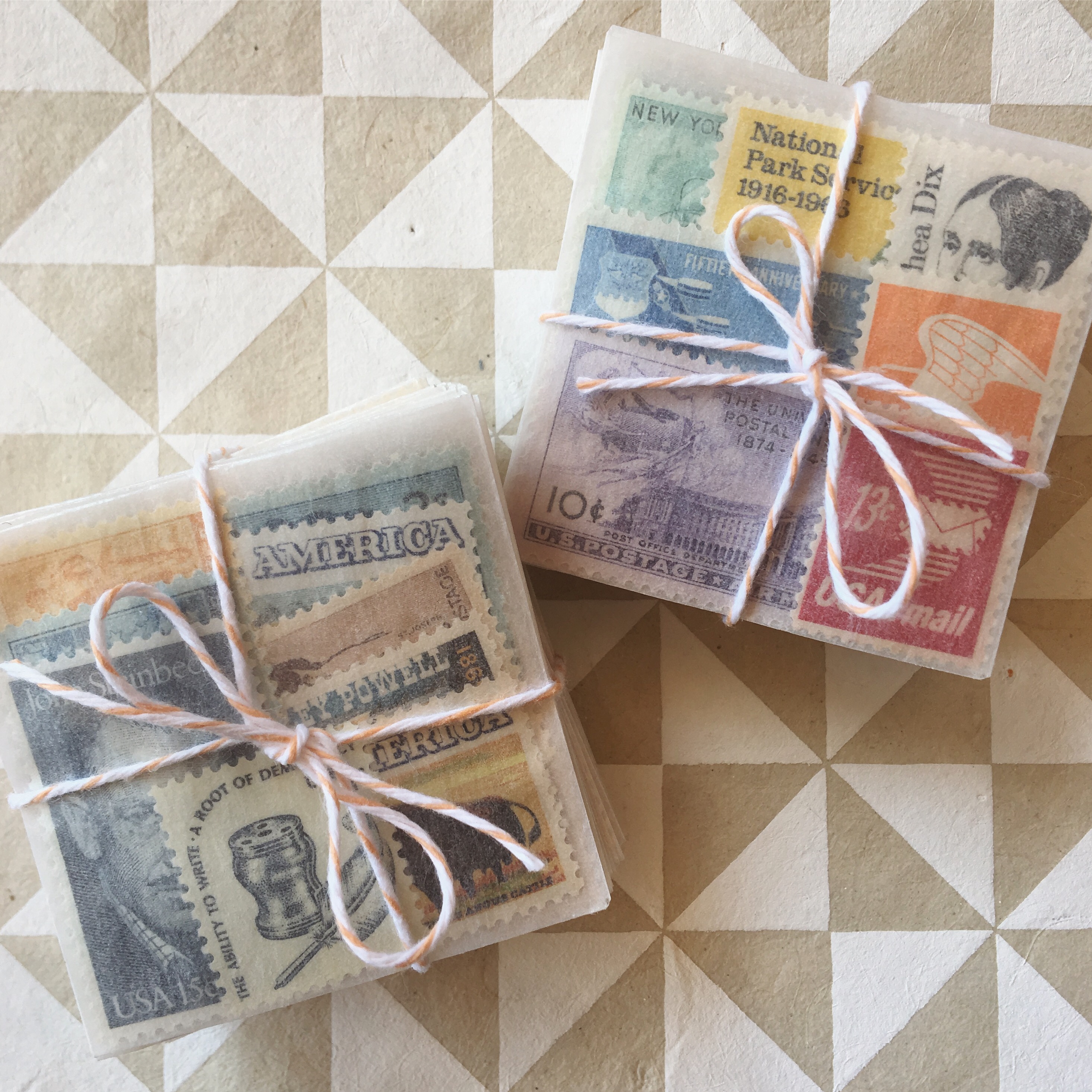 Vintage stamps are a lot of trouble -- I'm not going to lie. Working with them in the way I do requires serious patience and some high level OCD. But the drama and romance they add to your envelopes are well worth the tedium, in my opinion. I mean, gah! A tiny art gallery in your mailbox. What is better than that?

If you have other questions, leave them in the comments below. Happy to share what I can!