The Year in Reading: 2020
I know people who are fun. Those effervescent, happy, buoyant souls with whom the party dances right through the door. Who are always up for going out, staying late, and doing crazy things like making lots of plans.
Friends, I am not one of those people.
But here's one thing that not everyone knows about quiet introverts like me. We may not bring the fun, but boy do we know how to have

fun. It might not look like it. Or sound like it, for that matter. But if you pay careful attention, you might see us reclining

on the couch or in bed, book in hand, the corners of our mouths turning into a slight smile, perhaps even uttering a subdued laugh.
That's it! That's the moment. You almost missed it. FUN!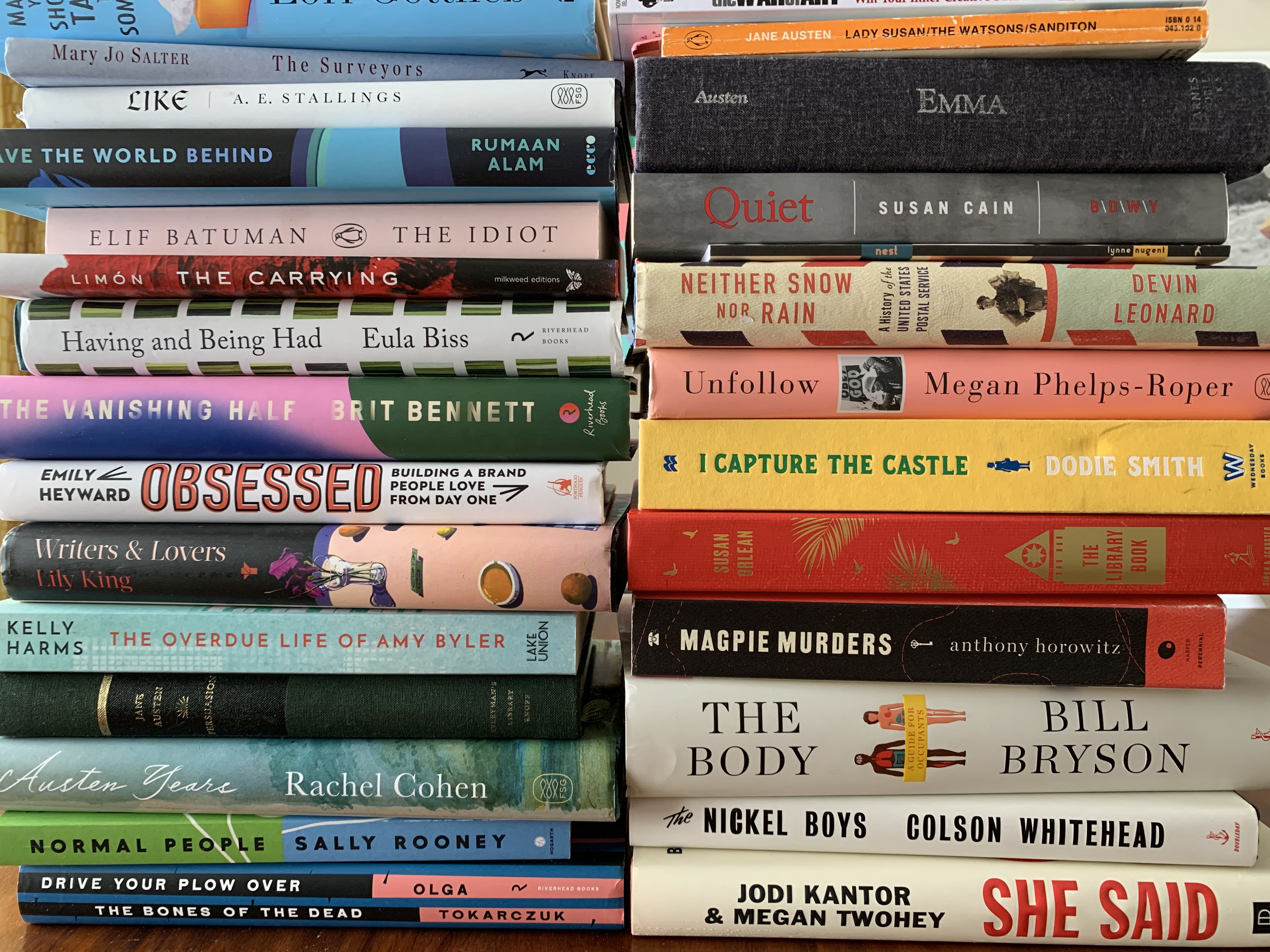 I recounted a couple of years ago how I finally had a breakthrough with reading. After planning to become an English professor and finishing a doc

torate, I decided not to pursue an academic job, and for years afterward, had a completely fraught relationship to readi

ng. There was a lot of psychological junk I had to slog through -- which took actual years -- and then one day, I rediscovered the joy and haven't looked back. Ever since, I have been making space for reading and have been having -- you know it -- a heck of a lot of fun.

My goal for 2020 was 36 books. And an average of three a month proved to be just about the right pace for me during this season of life with kids and a lot of work always waiting. And it was a good year for reading! There were a few duds, but because I usually let myself ab

andon books I'm no

t in love with, the magic is that I end up liking or loving everything I finish with the exception of my book club pick that I felt obligated to complete -- sorry, but I was not remotely a fan of Normal People. And while I absolutely could not put down Where the Crawdads Sing by Delia Owens, I had very strong complaints in the end.

But h

ere are my highlights!
Fiction

The Nickel Boys by Colson Whitehead: So hard but so masterfully written with a tragic and painful plot twist I didn't remotely see coming that made the book deeply memorable. That was one of my first reads of last year, and I still think about it a lot.
Drive Your Plow Over the Bones of the Dead by Olga Tokarczuk: I don't care all that much, to be perfectly honest with you, about plot, though the plotline in this novel was compelling even for me. But the real standout of this book is the narrator. Character is so difficult to do well, thoroughly, and realistically, but the main character / narrator here is mesmerizing.
The Idiot by Elif Batuman: I can't say that I've read too many novels set on university campuses, and this book made me long all over again for college. The crush I got on a boy in a class because of something smart he said... sigh. But it went so far beyond generating nostalgia. The narrator of this book is one of the funniest people I've ever met. For real. Read this book, and you'll have fun with her, too!
Writers & Lovers by Lily King: There was something so ordinary about this novel that was really refreshing. It's about a character, Casey, who is waiting tables while trying to finish a novel of her own. It's full of ordinary frustrations -- of the writing life, of the dating life, of banging your head against a door day in and day out in the hopes that one day, it's going to fling open. It was utterly relatable, and it had the rarest of things in modern literature: a happy ending.
Nonfiction

Unfollow by Megan Phelps-Roper: Written by the granddaughter of the founder of the Westboro Baptist Church, this memoir was truly stunning in its honesty, its vulnerability, and its bravery. Phelps-Roper is an exceptionally intelligent thinker and writer as well as a deeply compassionate person who is able to explain and humanize the people behind Westboro while also tracing her realization that the set of beliefs she had grown up with was misguided and that she had to get out. Getting out, it is important to say, is a definitive and final act -- leaving the church meant leaving her parents, all but one of her siblings, her aunts and uncles, and starting from scratch. The maturity and perception Phelps-Roper possesses is astonishing. It's refreshing to read such a thoughtful memoir from such a good-hearted person.
The Nest by Lynne Nugent: Although Lynne is a friend of mine from graduate school, this book of essays about motherhood is objectively gorgeous. Lynne's essays give language to the difficult-to-articulate highs and lows of parenthood, made harder to shape into language since they're experienced, so often, in bleary-eyed isolation. Or near isolation. She is masterful at exploring the paradoxes involved in sharing such intense sustained time with another creature while knowing that only you will carry the memories of that time. This book is beautiful and perfect and would make any new mother feel seen and understood.
Having and Being Had by Eula Biss: Also a graduate of the University of Iowa (in the nonfiction program), Eula Biss is a writer I have long been aware of and admired. Her writing never fails to be thoroughly researched, nuanced, smart, sensitive. Not only is her prose enviable at the sentence level, but the way the themes bob and weave structurally throughout the essays is masterful. This particular meditation on capitalism and the ways in which money defines our lives is something I think every American should read.
Maybe You Should Talk to Someone by Lori Gottlieb: I am of the opinion that every human being should be in therapy because living. The times in life when I have sought that support were so important in helping me to shift harmful patterns of thinking into much healthier directions. So this memoir written by a therapist who seeks therapy of her own after a hard break-up was just a lovely demonstration of the collective good that comes from asking for help in navigating pain. The accounts were necessarily fictionalized to a degree to protect confidentiality, but the book still offers a heartening glimpse into the work that therapy can help any of us do.
The Body by Bill Bryson: As with Bill Bryson generally, this is a wildly entertaining romp, this time through quite a lot of information about our bodies and the history of medicine. There was so much to take in, I'd actually like to reread it already, but one anecdote in particular sticks with me to this day: that the mold from which penicillin vaccines were made was found on a cantaloupe at a grocery store by a lab assistant in a lab that had been testing possible sources for penicillin for two years. The absurdity of how medical advancements came to be is truly astonishing.
Poetry

The Carrying by Ada Limón: Hands down, this is one of my absolutely favorite poetry collections of all time. Circling around her desperate desire to be a mother and lifelong health struggles that complicate that desire, these poems are full of reverence for our world even as they acknowledge the suffering inherent in being alive.
Like by A.E. Stallings: Stallings is one of a handful of contemporary poets regularly utilizing rhyme, meter, and formal structures. Her command of language is something to behold, and her poems always offer much to reflect upon.