At long last!! I am over-the-moon giddy to announce to the world: Poetry by Post. It's already live over on its own product page, and I've put the word out over social media. But I want to take the space here to explain more fully what this is and why I'm doing it.
Seven years ago now, I was fretting non-stop about what my thesis project for my MFA would be. Surrounded by creative people with seemingly endless lists of extraordinary projects in mind, I felt blank. I had felt like a misfit in my Ph.D. program, and I was feeling like a misfit in the MFA program as well. I wasn't a visual artist. I didn't have great intuition or ideas about visual expression. And yet, I was staring down the culminating project of my time at the Center for the Book, and it had to be good.
While I anxiously ruminated about that frustrating problem, I was also beginning to think past grad school. I had realized by then that I wanted to start my own business, and in dreaming about said business, I thought -- since I loved poetry and literary essays and letterpress printing and mail and calligraphy -- how cool would it be if I could work with poets and do a poetry subscription service and send a letterpress-printed poem through the mail, covered in luscious calligraphy and stamps and...
STOP THE PRESSES! That was it. That was my thesis project, fully envisioned. And as I have produced this project twice now and thought about it over the intervening years, it has become apparent to me that this wasn't just a thesis project. It's a life project. It is not an understatement to say that I feel like this is my life's work.

The struggle for me has been to how to balance competing desires: producing handmade, letterpress-printed objects that are super time-intensive is incompatible with doing a giant edition. But I also don't want to do super limited and infrequent editions because my ultimate aim is to share extraordinary poetry with whomever will let me as frequently as I can manage.
What I have landed upon as a solution is to streamline the mailings so that the format is exactly the same every time. This eliminates a lot of unknowns and makes my costs fairly predictable. It also potentially allows me to hire others' help on production if I need to. And I have given myself this full year to map out the line-up of poets for 2020, the exact poems I'll be printing, and to begin the design work on the first several. This will ideally take some of the stress out of the production process as I go.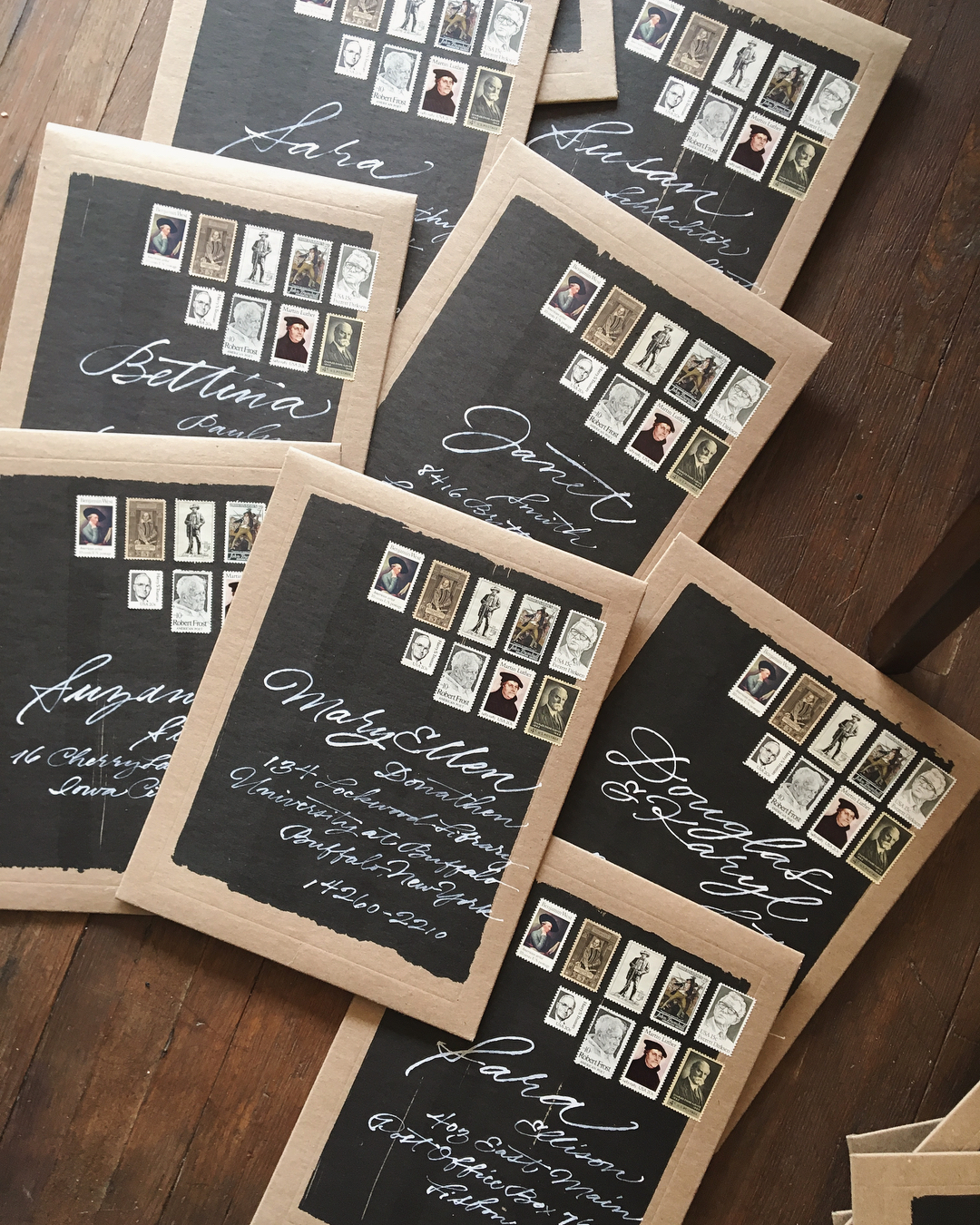 But make no mistake, I'm scared out of my wits. I believe that production will realistically take a couple of weeks out of each month. And I still have those kids to raise and a shop to run. So I pretty much swing between elation and abject fear.
I have learned in these moments to run through worst-case scenarios, and as far as I can tell, this is it: I can't keep up, I have to cancel the project, apologize profusely to poets and customers, and refund everyone's money.
I can live with that.
So with fingers crossed and high hopes, I am going to take a stab at doing this the way that I really want to. If you are interested in following along on this experimental adventure, you can find the complete project description, including participating poets and pricing information here.

Ready or not, here we go!
Images are from 2018's quarterly Poetry by Post featuring four poems by Ted Kooser.