You might have seen me mention that Rebecca -- my one-time customer turned employee turned friend -- got married last weekend to her partner, Dustin. It was a gorgeous affair at Junto Winery & Vineyard in Seward, Nebraska, and her photographer, Sam Areman, captured it exquisitely.
Rebecca and I worked with Lesley Pick of Inclosed Letterpress Co. (located right in Omaha!) for her invitations. Lesley has a brilliant system that offers a variety of extremely customizable designs so that your suite can be exactly what you envision. Rebecca and Dustin's palette was warm grey, pale blue, navy, blush, and soft greens, so we tried to capture most of those elements in the invitation design. I loved that Rebecca chose a handmade paper (made right down the road at Porridge Papers in Lincoln!) for gorgeous texture, a charcoal grey inner and dove grey outer envelope for lovely color play as you open up the invite, and special touches from tying up the invitation and reply card with pale blue waxed linen thread to using a lovely array of vintage stamps in pale blues to sealing the whole with the most romantic navy wax seal. Yours truly got to do the envelope calligraphy!


I have been so fortunate to get to know Rebecca over the past year. In my world, the point of stationery, letters, and invitations is not just to be clever or to impress but to connect with people in deep and meaningful ways. To make the recipient feel adored and special. Rebecca exudes this kind of warmth naturally, but I have to say, I think we transferred that warmth and care to this lovely invitation suite, too.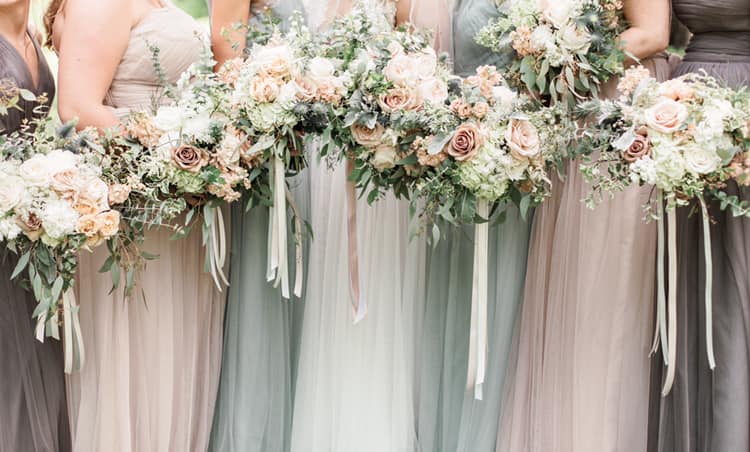 Now I'm just posting gratuitous wedding photos because -- gah! -- those bouquets are to die for. With the wild soft greenery and the satin ribbons hanging down? I die. I feel so lucky to have had a small hand in such a sublimely beautiful event. (Flowers are by Erin Weides at Flower It, in case you need to go book her for an event right this second.)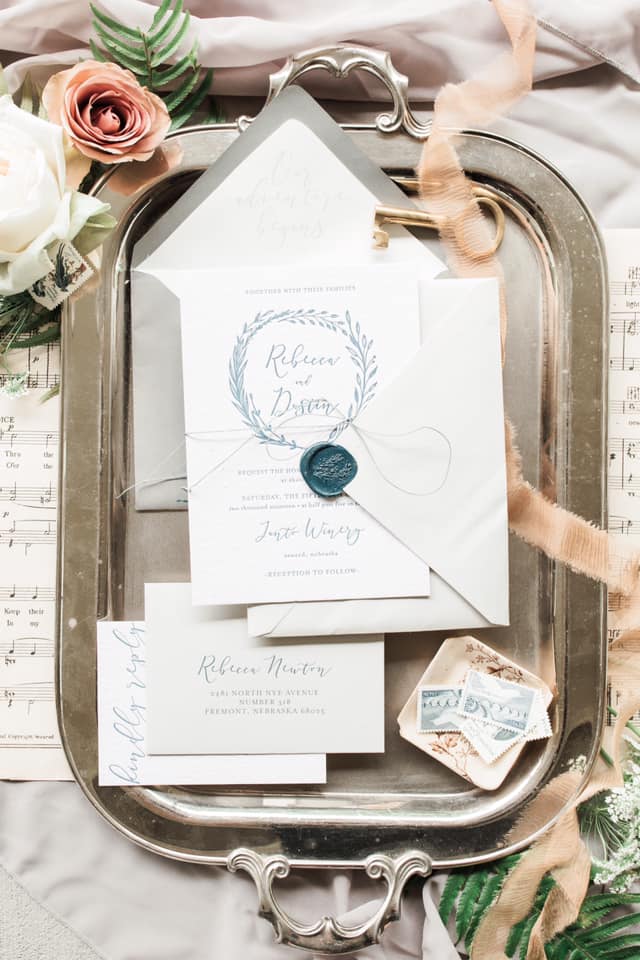 Congratulations to this lovely couple -- and to all of us really, because Rebecca and Dustin are officially making Ashland their home now that she has accepted a job teaching English at Ashland-Greenwood High School. Luckily, this means she'll carry on at the shop this summer and here and there as her schedule allows. Couldn't have asked for a happier next chapter to this love story.