Can I make a confession? Although I own a paper goods shop that celebrates gorgeous mail and although the pinnacle occasion for gorgeous mail is the wedding, I have always been ambivalent about pursuing wedding jobs. On one hand, yes! The wedding invitation is gloriously dramatic and intoxicating and one of the most highly anticipated pieces of post that ever grace our mailboxes. Who wouldn't want to be involved with that?! On the other, expectations run high and deadlines are often rigid, which is the perfect recipe for mega stress.
But then a couple like Lauren and Dan walk through the door, who are fun and sweet and kind and laidback and have fab

ulous taste, and the whole experience is positive and happy, and they make me wonder why I don't do weddings full-time.
Lauren and Dan chose a modern, sophisticated design by Omaha's own Lesley Pick of Inclosed Letterpress Co.

for their invitation. The background floral is soft and graceful, and I love how that element is balanced by the pewter envelope

and ink. They wanted a reply postcard, and Lesley did a crazy beautiful job translating the overarching aesthetic into a postcard format. Aren't those meal icons the cutest things you've ever seen? They make me giddy

.
It c

an be a challenge to use vintage stamps on wedding invitations because they generally weigh over one ounce, which currently requ

ire

s 70 cents' worth of postage. No matter how badly you want to use your glorious three cent stamps, they're kind of non-starters in a situation like this. Luckily, though, I hoard all the high-denomination beautiful stamps I can find for these very occasions. That romantic ship and the portrait of Emily Dickinson are two of my most favorite stamp designs ever. And I adore how they evoke exploration and poetry. So very fitting for love and commitment.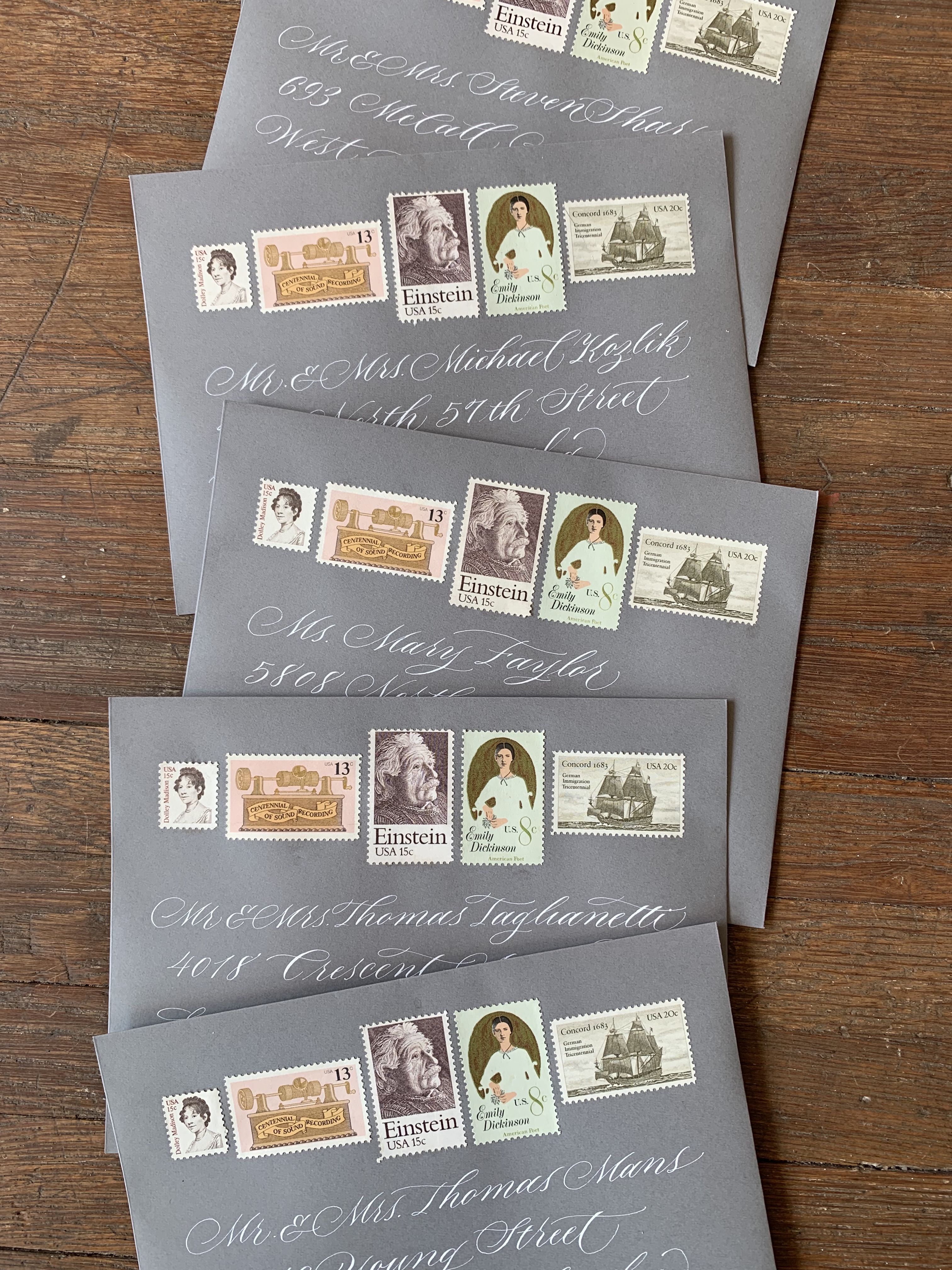 We went with a standard Copperplate lettering to keep the envelopes feeling elegant and reined in. It was a good opportunity for me to just hammer away at technique.
If you want to talk romance, this is the height of it, from my view: these have all weathered their individual journeys by now to reach guests' homes far and wide. Imagine them covered in cancellation marks, a little scuffed up by the travel, vulnerable to the elements and the care of whatever human hands held them along the way. It's an infinitely moving concept to me. And I suppose it's because that's what love is, metaphorically: a beautiful offering, exposed and susceptible to the world's damage, but risking the passage anyway, and by some stroke of luck or unearned grace, arriving intact on the other side.
I'm so very happy for Lauren and Dan. Here's to a beautiful passage of their own.