Happy Spring! I was beginning to think we would never see the day, but here we are. I walked to work this morning! Birds are singing from every tree! Green is starting to tiptoe into the grass! Every year, I feel completely flooded by love as Spring appears. No matter how deep the longing winter stirs up, no matter how monumental the patience necessary to withstand it, it always feels worth the hardship to watch the world reawaken.
In honor of Spring, I'm doing some freshening up of my own: our website has a new look! And I'm blogging again! Unfortunately, there's not a heck of a lot to see here beyond that yet, as I'm rethinking what I want my online shop to be and am going to be building it little by little over the coming months. But the site is ready to handle workshop registrations, and there are a couple fun ones happening this month: an Intro to Lowercase Copperplate with Cheryl Dyer and a Hinged Lid Boxes class with yours truly. Click on through to read more!
Also of note: I've shared with you before that we offer custom painted silhouettes like the one pictured here. Well, I think they are about the sweetest possible Mother's Day gift around and are also instant heirlooms, so I wanted to remind you of them if you're starting to think about gifts worthy of your mama. They are 8x10" and come matted, and you can choose from a handful of colors and fonts. Just write me back or call the shop if you're interested or hop on over here! Orders need to be placed by April 19th to arrive in time for Mother's Day.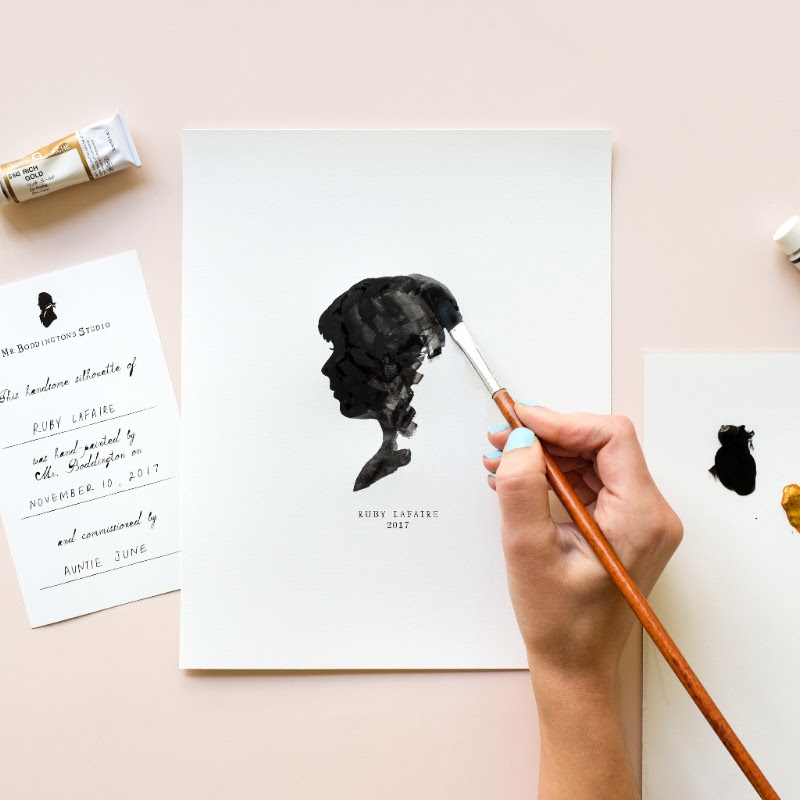 I hope you were able to soak up every drop of glorious sunshine fluttering down on us yesterday. My little fam celebrated with ice cream and a trip to the playground. Bliss!
xoxo! Laura